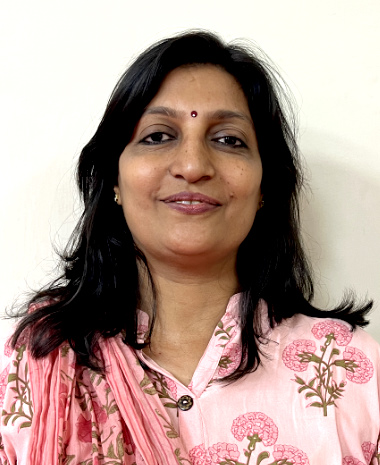 Dr. Gargi Shah
Coordinator
विद्ययामृतमश्नुते – विद्या  से अमरत्व की प्राप्ति होती है – IMMORTALITY IS GAINED FROM LEARNING
'Saptadhara' provides a cultural platform to students of higher education, where they feel the bliss of creativity.
OBJECTIVES OF SAPTDHARA
The colleges and universities across Gujarat will have to focus on various areas of education, art and knowledge for the manifold progress of the youth. These areas of focus are known as Band/Cluster/Spectrum/Continuum/Symphony of Activities (Dharas):
Gyan Dhara (Knowledge Band)
SarjanatmakAbhivyaktiDhara (Creative Expression Band)
Rang, Kala aneKaushalyaDhara (Fine Arts Band)
NaatyaDhara (Theatre Band)
Geet Sangeeta aneNrutyaDhara (Music and Dance Band)
YogVyayamaneKhelkudDhara (Yoga and Sports Band)
SamudayikSevaDhara (Community/Social Service Band)
SAPTADHARA or Seven Streams was initiated:
To involve students in academic, co curricular and extracurricular activities of their choice and interest.
To create a confluence of activities so that the flow of activities continues unabated and functions asmedium to channelize other streams and activities.
To provide options to students and staff members for association and development through activities of interest.
To improve the overall involvement of students and help them mould their personality.
Vision
The 21st century is indeed an era of Knowledge. Human wisdom and knowledge has become transnational and is being transferred globally in an unprecedented way by dint of amazing process of science and technology. The world has almost become a 'Global Village'. Human mind is being explored and exploited to its fullest in the domains of knowledge and learning world over. When India is going to be a global leader and a torch-bearer to the world in days to come, it is expected that every citizen of India is able to take initiatives on his own and is aptly equipped with rich and noble values of our glorious cultural and historical heritage. This global image of Gujarat follows our practices in science, technology, research, education, trade and commerce, proper administration and our traditions. In the light of this scenario that the Higher Education of State emphasizes new policies and action plans to infuse and instill within the youth of Gujarat the spirit of global competition and to encourage them to display their talents to meet challenges of the newer changing order of the world.
Mission
Azadi ka Amrut Mahotsav and Swarnim Gujarat Mission for Excellence coincide with Gujarat celebrating its glorious  half century since the establishment of the state. The State proposes to induce renewed spirit and to introduce newer action plans encompassing all walks of life for the betterment of the society .
To fulfil this noble mission, colleges and universities across Gujarat focus on various areas of education, art and knowledge for the manifold progress of the youth. These areas of focus are known as Band/Cluster/Spectrum/Continuum/Symphony of Activities(Dharas)
Activities
In our college, Under Saptdhara initiative different activities focusing on skill development and skill enhancement of students are conducted such as creative writing, proof reading workshop ,essay writing competition, poetry recitationElocution competition, poster making, painting, salad decoration, rangoli making, drama workshop,sports avtivities for the overall development of students.
Under Saptadhara , we have been focusing on many Govt. initiatives such as HAR GHAR TIRANGA, CLIMATE CHANGE, DRUGS FREE INDIA, SWACHCHH BHARAT ABHIYAN etc. Awareness programs and various competition on these themes have been conducted involving huge participation of students and increase their commitment and enthusiasm towards a brighter better India.
Saptadhara is playing a vital role in guiding the youth, creating awareness and boosting their enthusiasm in a constructive manner by involving them in activities such as SHARING IS CARING, PLANTATION OF TREES, CLEAN CAMPUS GREEN CAMPUS, BREAST CANCER AWARENESS.
Reports
Gallery